NANO-CATHEDRAL GHENT LOCAL WORKSHOP
24th October 2017 | Sint-Baafs Cathedral | Ghent (Belgium)
After Oslo and Vienna, Ghent was the third city to host the Nano-Cathedral local workshop.
On Tuesday the 24th of October, local professionals in field of architecture and stone conservation were provided with a program consisting of theoretical lectures in the morning and practical demonstrations in the afternoon. The lectures were deal with the issues surrounding the Balegem stone, existing and innovative techniques for its conservation, and the research conducted in the Nano-Cathedral project.
In the afternoon, several test methods was demonstrated, giving participants insight in state of the art research procedures and the assessment and comparison of new and existing products. On top of that, partakers got the chance to get acquainted with products available on the market and get the opportunity to visit the test sites on the Cathedral.
To end the day, external local researchers presented their own findings and test results to the audience to provide an overview of local and international research around a century-old problem: the conservation of Balegem Stone.
GENERAL INFORMATION
Location: Sint-Baafshuis, Biezekapelstraat 2, 9000 Gent
Organizers and Contributors: organised by Architectenbureau Bressers and Ghent University (Tim De Kock).
Consortium contributions by Jasper Völkert (Dombau Köln) and Matea Ban (TU Wien).
External contributions by Nathalie Vernimme (Flemish Government – Dept. of Built Heritage) and Tanaquil Berto (KIK/IRPA).
Language: Dutch and English
Translation service foreseen (yes/no): no
Target Groups: All people professionally involved with stone conservation (governments, architects, stone restorers, …).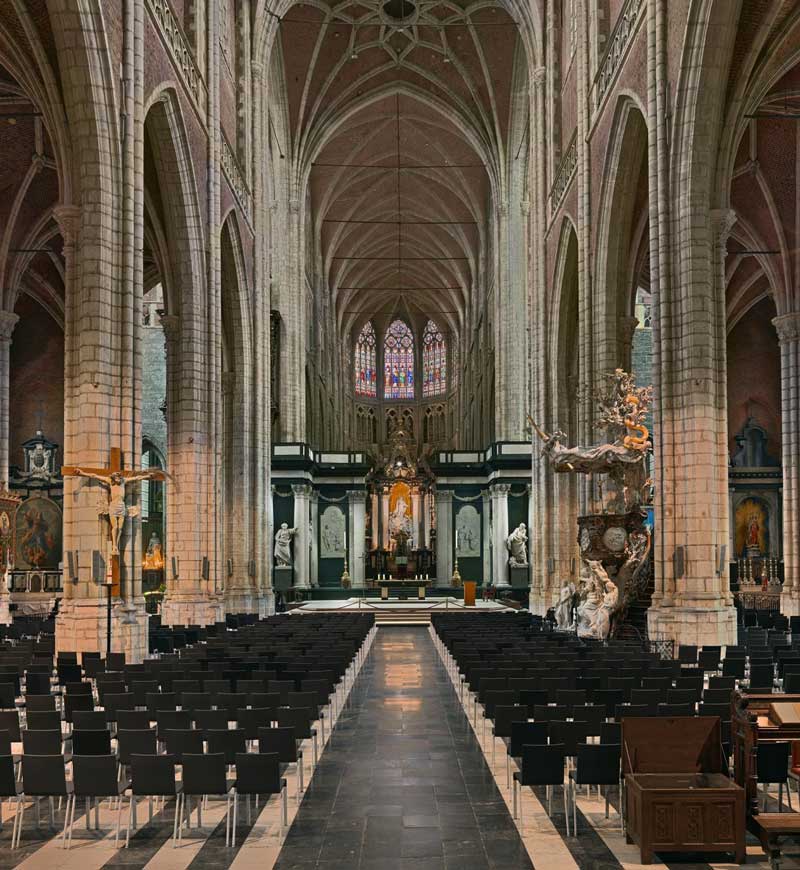 Sint Baafs Cathedral – Interior
COMPLETE PROGRAM
09.00 – 09.15: Welcome
09.15 – 09.35: "Research by the Flemish Government concerning Built Heritage" by Nahalie Vernimme | Advisor Research Programming at the Flemish Government – Dept. of Built Heritage
09.40 – 10.00: "Decay and conservation of Balegem Stone in a historical perspective: Saint-Bavo's Cathedral as case study" by Ignace Roelens | Project manager / technical & quality manager at Bressers Architecten bvba
10.05 – 10.25: "A technical analysis of Balegem Stone in Flemish heritage" by Tim De Kock FWO Postdoctoral researcher at Ghent University – Dept. Geology
10.25 – 10.55: Coffee break
10.55 – 11.15:"State of the art: possibilities and limitations of consolidating Balegem stone with products based on ethylsilicate" by Tanaquil Berto | Collaborator at the laboratory dept. of KIK/IRPA (Royal Institute for Cultural Heritage)
11.20 – 11.40: "Efficiency and compatibility of newly engineered nano consolidants" (ENG) by Matea Ban | Reseacher at Institute of Geotechnics of TU Wien and member of the Nano-Cathedral consortium
11.45 – 12.25: "Testing of on-site applications: methodologies and results of the Nano-Cathedral project in Ghent" (ENG) by Jasper Völkert | Stone restorer at Dombau Köln and member of the Nano-Cathedral consortium and Tim De Kock | FWO Postdoctoral researcher at Ghent University – Dept. Geology
12.30 – 13.45: Lunch break
13.45 – 15.30: Workshop / practical demonstrations
Practical demonstrations of all kinds of applications and testings, used during the project.
15.30 – 15.50: Coffee break
15.50: Open platform
Open platform to allow local experts, external to the consortium, to share their findings on the topics discussed, giving the attendees an overview of local and international research around this topic.
DOWNLOAD THE PROGRAM IN LOCAL LANGUAGE HERE!